Vertical Axis Wind Turbines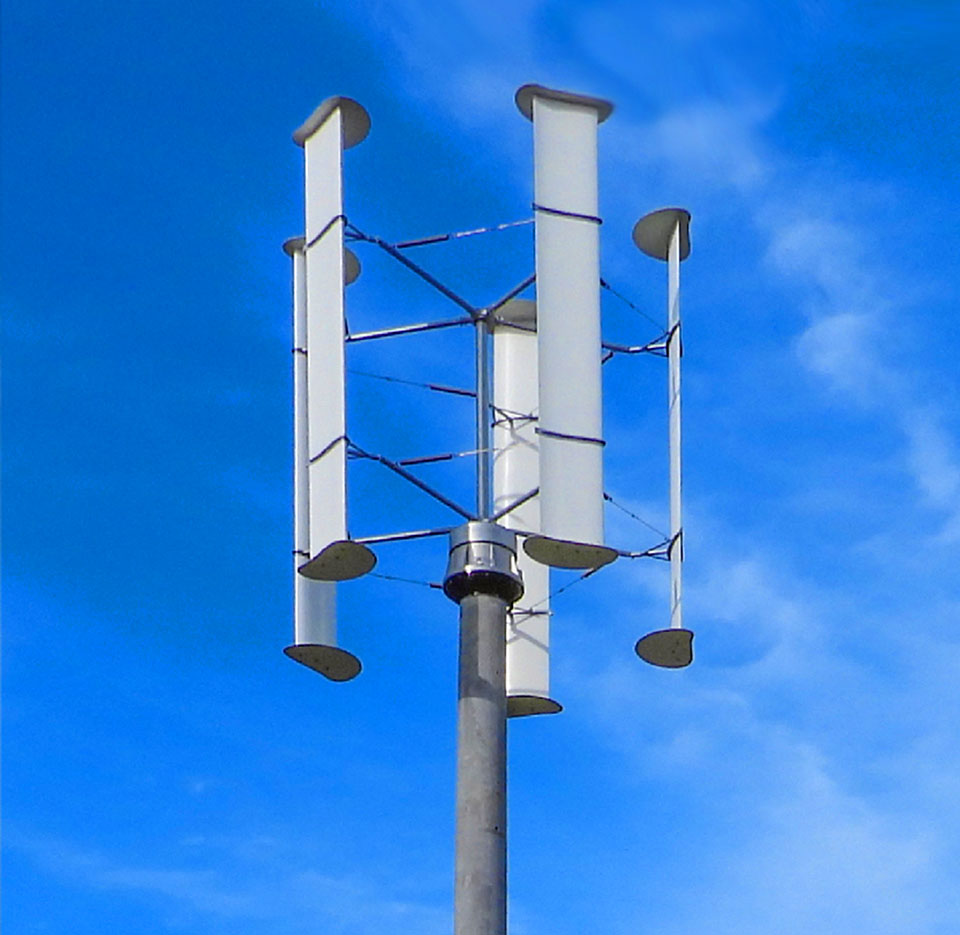 Vertical Axis Wind Turbines - VAWT
These turbines are optimised for tough and varied environmental conditions from high snowy altitudes to arid deserts and rugged terrain. As shown in any regional Wind Atlas, annual average winds will vary a lot from coastal to inland areas and are also affected by general topology 
Key features of these turbines include:
permanent electro-magnetic bearing generator
active realtime variable pitch blades
long operating life-span
output efficiency over 24-hours
virtually noise-free
auto-break safety system
Huge advantages of VAWT energy production.
Vertical Axis Wind Turbines are ideally suited to wind turbulence as they require no orientation of the rotor and can work with winds from any direction. They are far less noisy than horizontal turbines and therefore will not disturb livestock or nearby occupants. High-end small-scale turbines are fast becoming a necessary addition to renewable energy systems. Turbines supplement solar energy limitations of sunshine and seasonal hours. Additional battery energy storage systems will provide a 24-hour power resource.
DESIGN, INNOVATION AND FUNCTION
Aerodynamic Performance. Every shape and size of a surface such as an airfoil or blade, has a different set of characteristics. As they revolve around a fixed central axis, they are subjected to myriad wind force dynamics in addition to wind speed and direction. Their dimensions, quantity, diameter across the circumference, and internal volume or swept area, helps determine energy potential and performance.
Variable Pitch Blades. This VAWT design incorporates a Positive Attack Angle Regulation which is controlled by the RPM – (variable pitch blades). This means that each blade has an optimal angle of attack at any position to maximise wind harvesting efficiency. After wind in the upwind direction passes through the first half of the VAWT, it becomes the downwind direction. Magnitudes of the power generated by the blades differ at different positions thereby optimising the performance at each instant.
Our VAWTs with their broad sweep, can be grouped in a proximity. Specifically, they are not encumbered by myriad guy wires that are generally considered unfriendly to grazing cattle; nor need protective surrounding fences that absorb valuable land requiring continual spraying to keep grass and weeds at bay.
VAWTs integrate perfectly with renewable systems, on or off-grid. Every site is uniquely varied in wind resources, so a site survey and energy assessment are necessary. This includes the geographic location, topology, obstructions and annual wind averages for the area.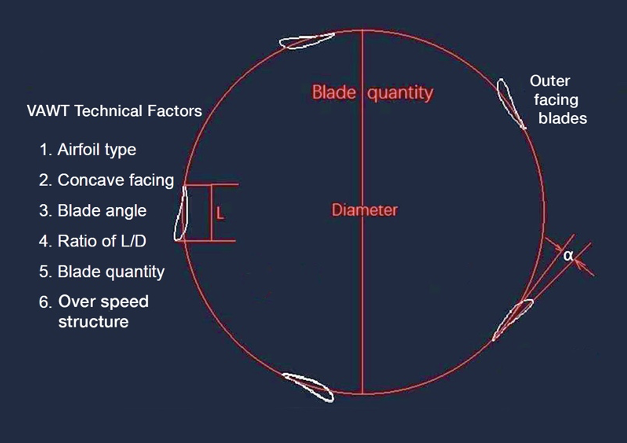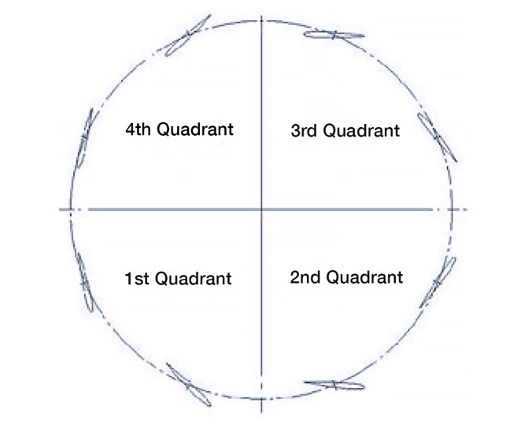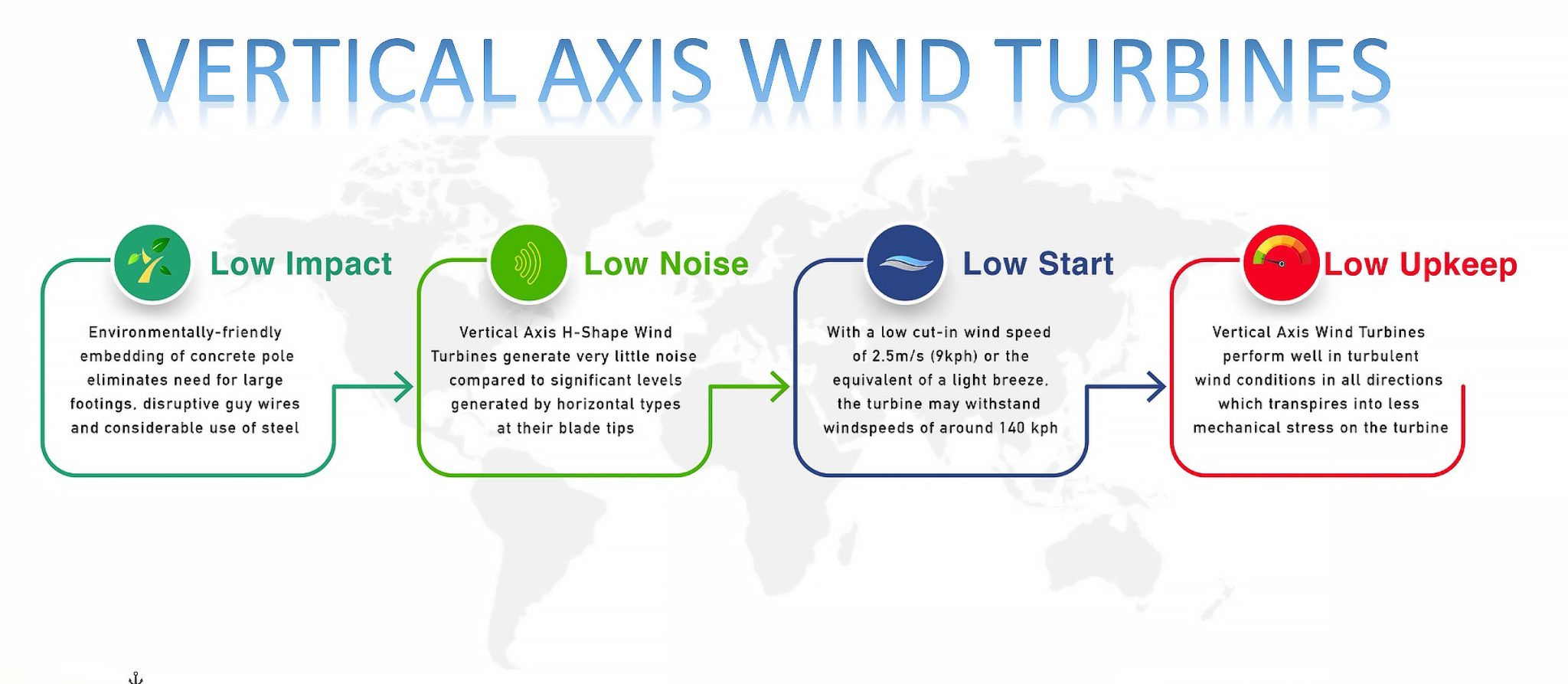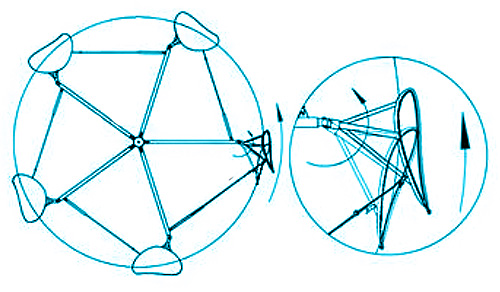 Robust VAWT design for climatic challenges
Design innovation for Australian wind conditions centres around key issues such as:
Low start-up or 'cut-in' speed – the capability to operate in minimal wind conditions like 2.5m/s (9km/h) and generate reasonable power
Over-speed regulation – windmill capacity to maintain power generation in high wind conditions as opposed to full braking which generates nothing
Auto and Mechanical Braking – both electrical and mechanical helps enable VAWT survival in severe weather conditions of perhaps 35-45m/s (126 -162km/h)
Ease of maintenance and serviceability – various tower heights and types, and structural design of the VAWT, enables easier access by cranes or boom-lifts.
Adjusting the blade angle in real-time per rotation, enables the blade to obtain the best angle at any azimuth, increasing the driving torque in both upwind and downwind positions. This means that each blade can supply power from any position using positive attack angle regulation.
Our VAWTs are noise-free and safe due to their low rotational speed, higher torque, and box girder structure of the blades. VAWTs have less impact on the grid because their rotational speed is less sensitive to changes in wind speed, and their rotational inertia is bigger, whereby their output voltage only fluctuates mildly.
Optimised for tough Australian conditions, they combine numerous curved aerofoil blades connected to a centrally mounted permanent magnet generator. Mounted high on a 12-metre pole they require a low start-up torque, or light gentle breeze to drive them and generate power. ATD Energy currently provide these in  3, 5 and 10kW models to suit any environment from rural, to industrial and commercial locations.
A lot more attention is now being focussed on VAWT advantages such as their excellent aerodynamic performance, higher wind energy utilization rates and wider working wind speed range.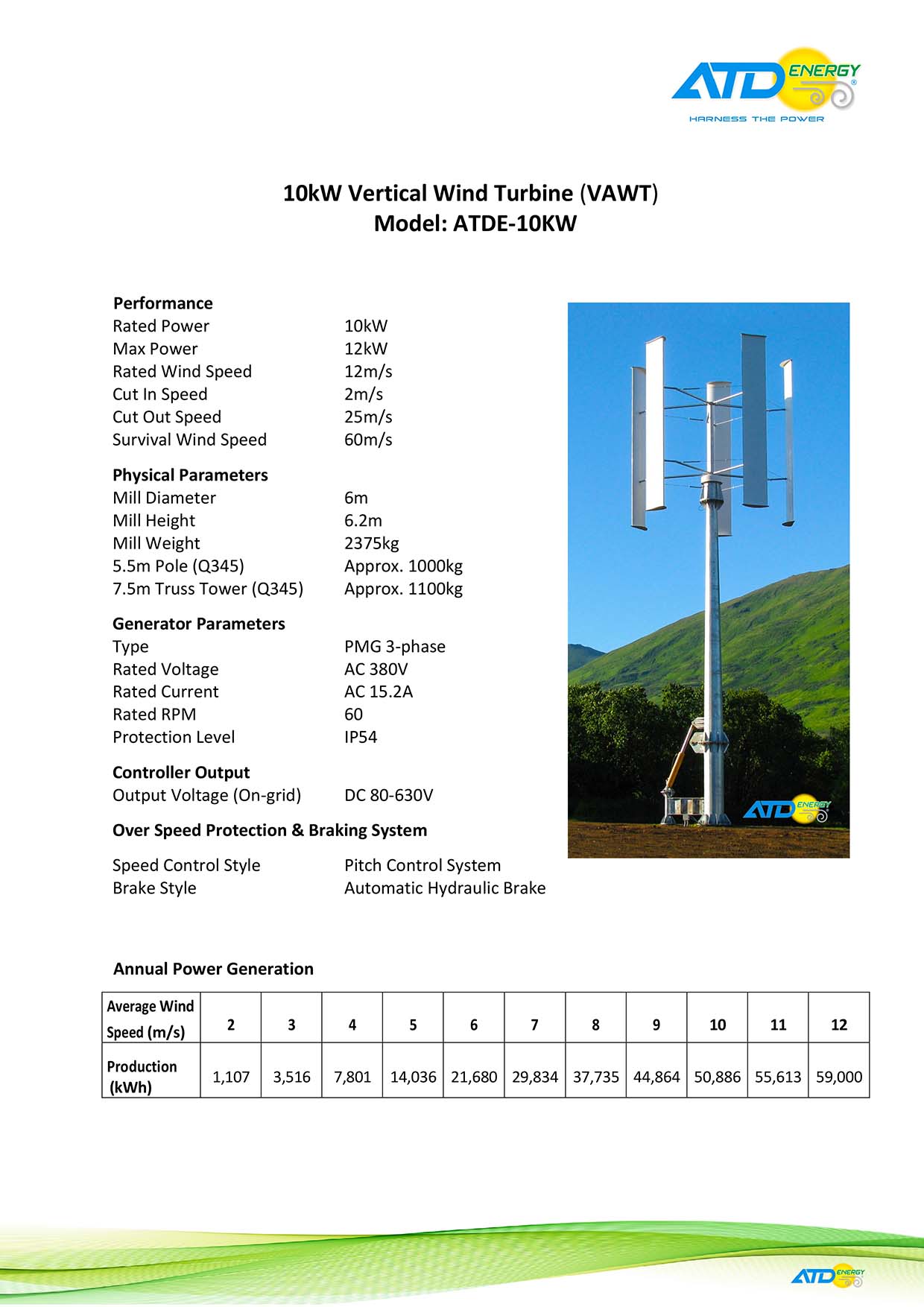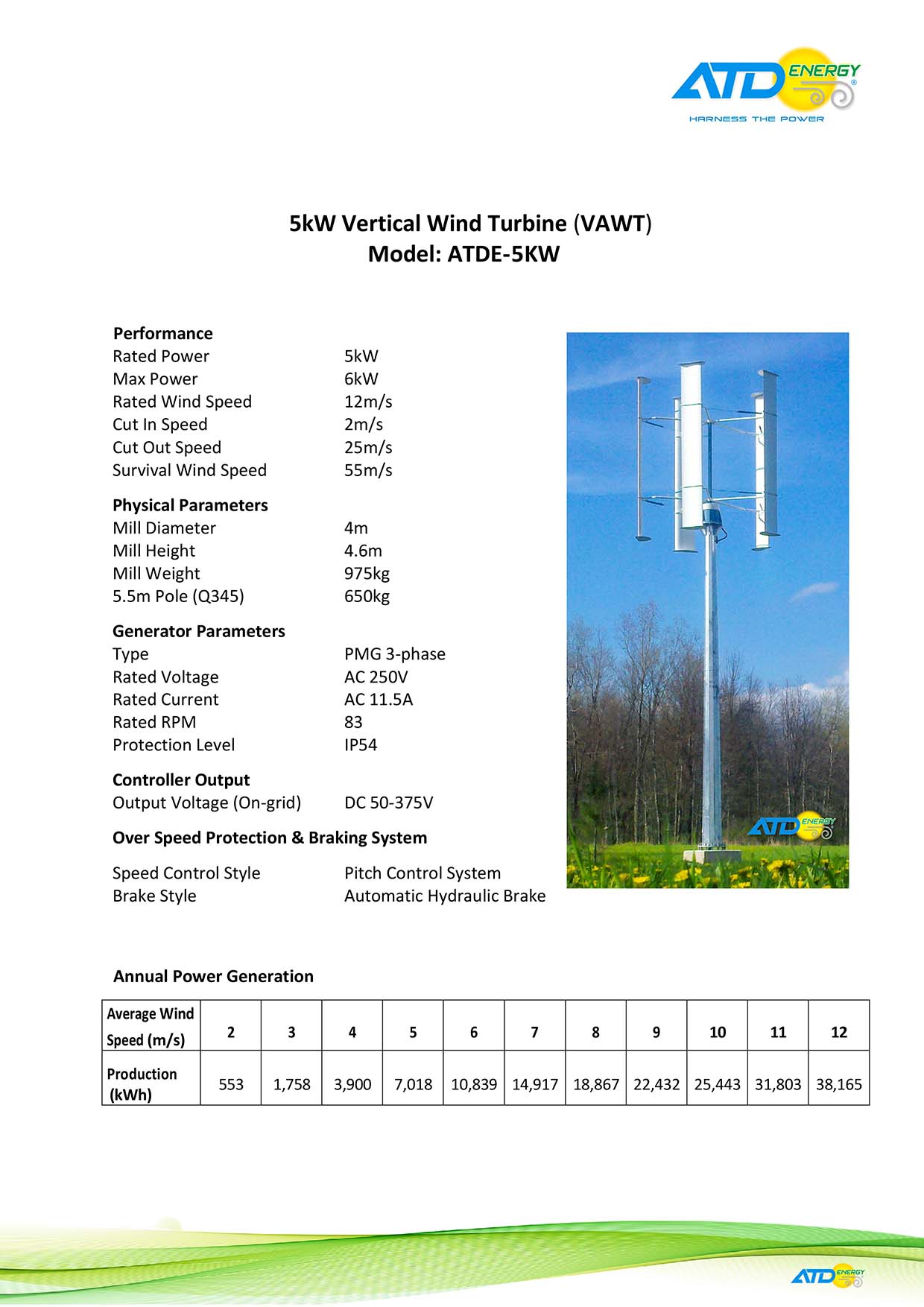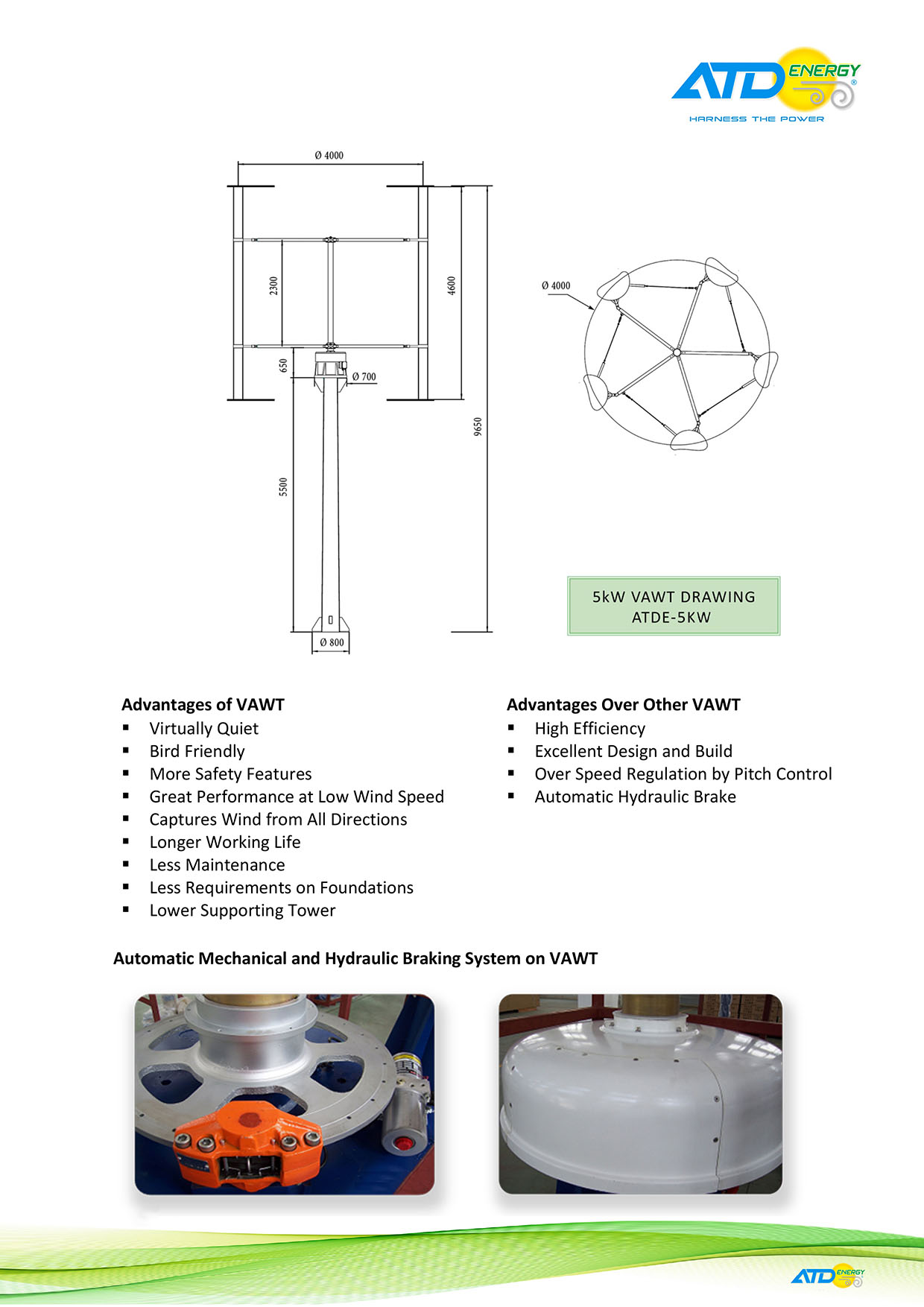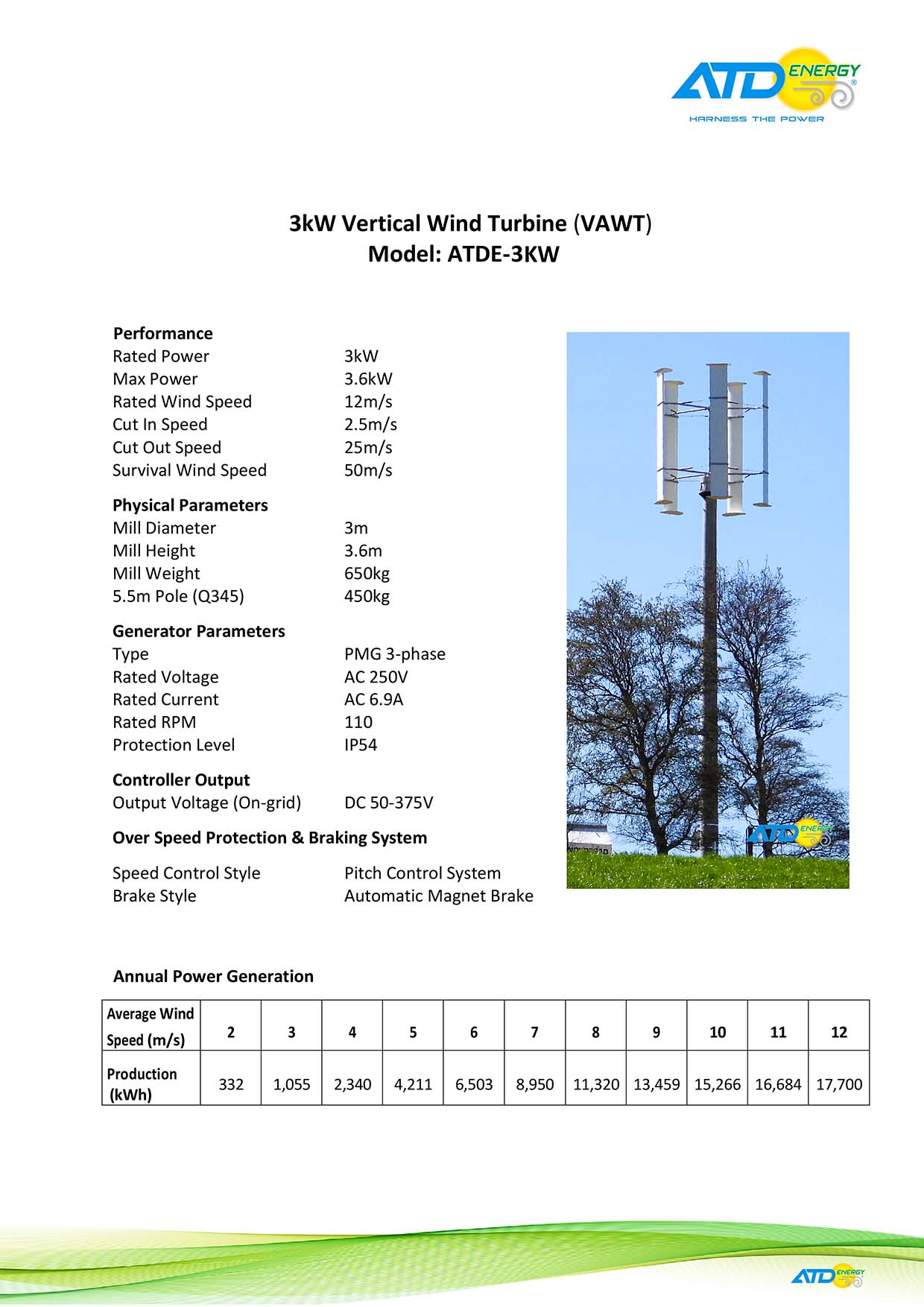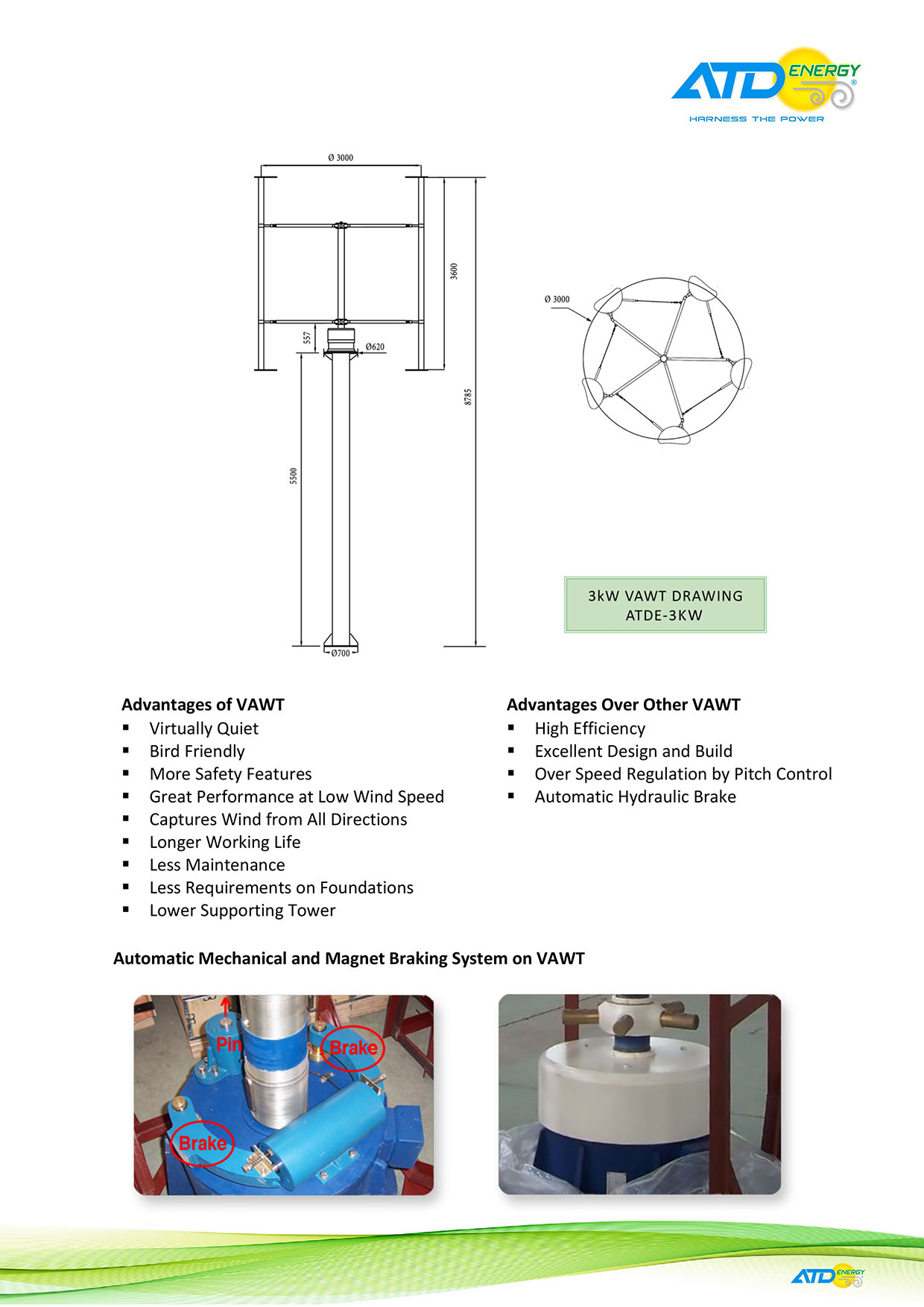 ATd Energy 3kw vertical axis wind turbine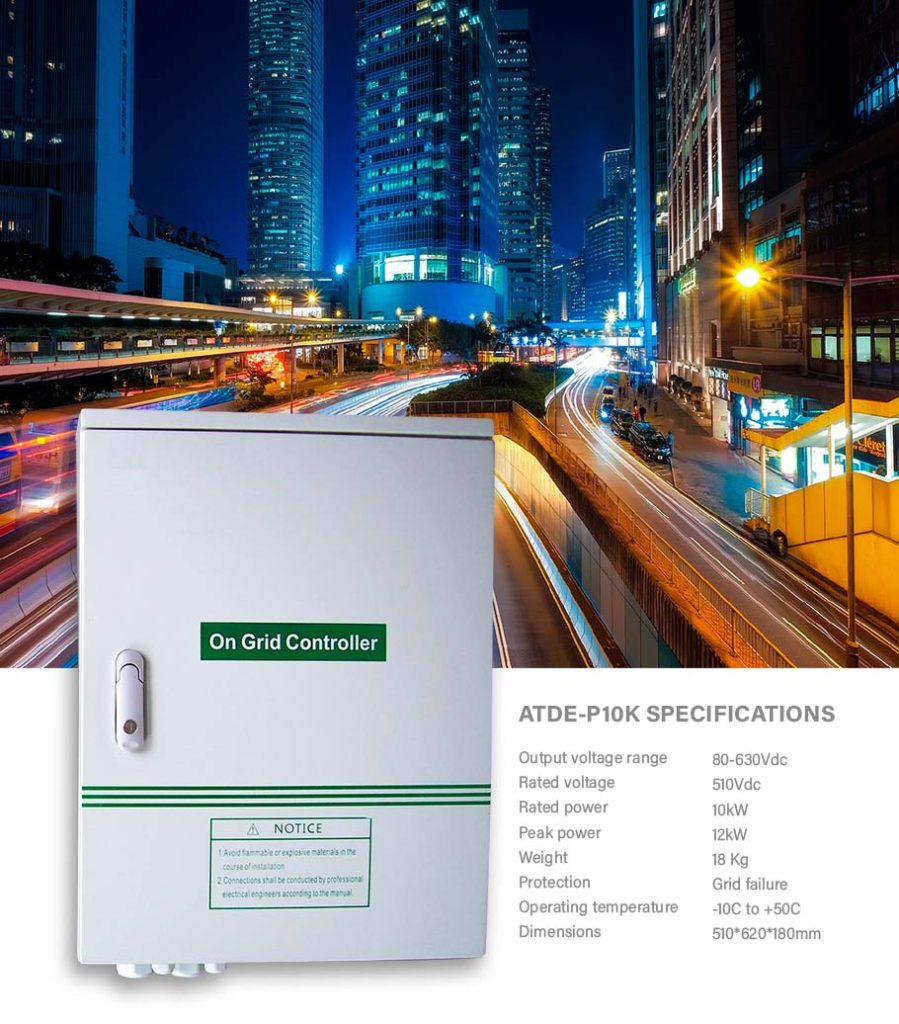 Integrated Power/Wind Controller
This Power, or Wind Controller, is designed to work as an integrated system with the VAWT. It essentially manages the turbine and applies automatic braking when the RPM reaches the limits of the safety levels caused by high-velocity wind conditions.
All VAWT installations and maintenance MUST be carried out by qualified personnel with appropriate  certifications – both electrical and engineering, to avoid damage, injury, electrocution or any other high life risks.
The Controller has three-phase AC inputs and one-phase DC output, and differs slightly for on-grid or off-grid applications. Each controller is equipped with a Microchip MCU and static switch, and various mechanisms to protect the wind generator.
Frequently Asked Questions - FAQ